Date/time
Date(s) - 13/05/2017 - 20/05/2017
All day
Locality
Ankara, Turkey
Project type
Selected participants
Guest User
Guest User
Guest User
Summary what was training course about:
We can see change and development are rapidly flowing even while living in the first quarter of the century. It is getting important the young to have the skills needed in the 21st century for designing their own future to be sources for that instead of staying in a remote audience. Problem solving, cooperative work, critical thinking, effective communication, creativity skills, are basic skills expected from the youth of this century.
We intend the young to be individuals who can can observe the problems and needs in the areas of environment, which can generate ideas, can pass them into practice and who can take risks, are not afraid of failure. In this context the main goal of our "Creative Young Entrepreneurs" project was to discover their hidden creavities and entrepreneurial skills in order to increase the employability of young people."Role studies, simulations, workshops, site visits, measurement and assessment, written and oral feedback, cultural evenings, outdoor activities and interactive presentations" were used.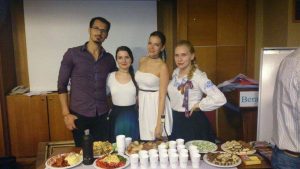 Participants during TC:
gained knowledge and awareness about innovation, creativity, barriers to creativity, entrepreneurship and innovation in youth work and the importance of creativity etc. information on issues
developed the communication, entrepreneur, cooperation, teamwork, creativity, problem solving and communication skills in a foreign language which people will need most in the 21st century
developed new tools and methods related to entrepreneurship which can be applied in youth work.
gained new perspectives on entrepreneurship and creating awareness of entrepreneurship
got ability to look through the different perspectives and to establish an intercultural dialogue
contributed to the development of key competences of young people
Participation in the project
If you would like to apply for project, please answer the following questions:
1. Question: What is your motivation to participate in the project?
2. Question: How do you think you will use the knowledge and skills which you gain at this project in your future life?
Pre tento projekt sme už vybrali účastníkov.