Date/time
Date(s) - 02/01/2017 - 02/04/2017
All day
Locality
Viseu, Portugal
Project type
Selected participants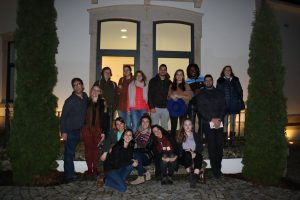 More pictures here: https://www.facebook.com/pg/ADELSlovakia/photos/?tab=album&album_id=1029710853829490
Summary what was EVS about:
EVS was held in organization Adamastor, APPDA – Viseu and FAJUVIS where volunteers supported several activities using cultural animation, support in children leisure and wellfare activities, support children in educational activities; provision of workshops for children with autism, participation in thematic meetings, support in the organization of events for fundraising and empower the visibility of the association into the local community.
Volunteers were involved in several activities of APPDA – Viseu and FAJUVIS, in the various areas of intervention that stands out to be Health / Rehabilitation, education, family intervention and social and community intervention.
Volunteers were  involved in the following context:
– Multidisciplinary support service focused on the child and family (SIAC) and Autonomy Promotion and Rehabilitation Center (CPAR).
– Support in development therapies to individuals, groups and communities covered by social facilities, to improve the living
conditions of nature;
– Collaborate in the exploration, study and evaluation of plans of social promotion and community in identifying the needs of filling leisure and studies on the characterization of the social environment;
– Promote, develop and / or support activities of rehabilitation and development also educational and recreational nature in leisure
activities for children, youth and older people;
– Streamline and/ or support activities of formative character by conducting courses or education and family education campaigns;
– Ensure, in accordance with the guidelines set, the link between social facilities and families and other institutions and community services, streamlining and / or participating in meetings, promotional programs or other actions at community level.