Date/time
Date(s) - 18/02/2017 - 25/02/2017
All day
Locality
Stara Zagora, Bulgaria
Project type
Selected participants
Summary what was training about:
The main aim of this international training course on leadership and entrepreneurial/pro-active civil society attitude was to equip the participants with competences in terms of leadership and entrepreneurial learning. Through the program of the course the learners will develop understanding about the concept of leadership and gain practical skills of working with groups and handling group process, as well as entrepreneurial leadership qualities as important assets to be brought in youth work. Through the supporting learning process the course aims to develop public speaking, project management, negotiation skills of the participants. It proposes to foster the active involvement of young leaders in society and inspire them to act as multipliers of the gained knowledge in their local communities.
Aimes of the training course were:
• To achieve a common understanding of the concept of leadership
• To develop the participants' understanding of the key principles of entrepreneurial leadership and to explore instruments for its promotion among groups of young people in civil society
• To improve participants' skills in project-management related to youth projects
• To propose new tools, approaches and to identify ways to further develop youth entrepreneurship in Europe
• To encourage exchange of good practices related to innovative youth projects
• To empower youth workers/ leaders to act as multipliers of the gained competences in their local communities
The program of the course was based on non-formal education and was conducted using a highly interactive and participative approach. The activities were managed by a team of experienced trainers and facilitators. This international training course was facilitated using various non-formal learning methods such as presentations, discussions, work in groups, buzz groups etc., but also using innovative ones like a new forms of negation techniques or mindfulness meditations.
Na tréningu boli účastníci z 12 rôznych krajín – Cypru, Chorvátska, Estónska, Macedónska, Francúzska, Grécka, Talianska, Poľska, Rumunska, Slovenska, Španielska a Bulharska.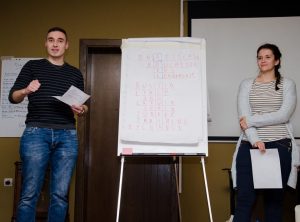 Participation in the project
If you would like to apply for project, please answer the following questions:
1. Question: What is your motivation to participate in the project?
2. Question: How do you think you will use the knowledge and skills which you gain at this project in your future life?
Pre tento projekt sme už vybrali účastníkov.