Date/time
Date(s) - 01/11/2015 - 30/09/2017
All day
Locality
Ankara, Turkey
Project type
Selected participants
In recent months, we have sent 6 volunteers to Ankara for a 2-months period.
Denis, who was in Ankara in November – December 2015, summarized his stay there as follows:
"I have a great time here, and I think I would stay here forever! I decided to apply for EVS, as I had recently completed my university studies, and I still wanted to experience a stay abroad before I start looking for permanent work. EVS turned out to be a great way to improve my English and Spanish (one volunteer from our group is Spanish) and to learn the basics of another language (Turkish). I learned how to overcome some of the problems arising from not knowing the local language – everyday tasks like buying bread are challenges for me. I would definitely apply for EVS again, but this time I would make more savings. The pocket money we receive allows me to survive, but if I want to have fun, I have to use my own savings. " Denis
Michaela who was there in the months of August-September 2016 wrote this:
"The EVS was absolutely great. From your side as a sending organization, everything was great, also the cooperation with the receiving organization was great. Everything went well. The accommodation was very good, close to the office and the city center. I learned a lot there about doing projects, writing articles, creating a magazine, iež Also on Fridays and Saturdays I went to the center and did activities for Syrian children, which enlivened the whole project. I have nothing to complain about, everything went smoothly and correctly, except for the change of the project, which didn't bother me in principle, as I did 2 days a week with the children as well. I would like to take this opportunity to thank you for the opportunity to be on EVS. I learned a lot of new things that were in the description of the project, not to mention that I could get to know a new culture and country for 2 months. " Michaela
You can see more photos from her here: https://www.facebook.com/pg/AdelAssociationForDevelopmentEducationAndLabour/photos/?tab=album&album_id=926372760829967
Veronica, who was there in the months of September – October, wrote this again:
"After successfully completing a volunteer internship in Ankara, I am, unfortunately, back in the reality of everyday life. I would like to thank ADEL for mediation and a great opportunity to meet the world and new people. Although our main task in the project was to help or support people of all ages, religions and backgrounds, in the end it also helped me a lot: to broaden my horizons, to make perfect friendships and partly to realize the direction of my take your life. Thank you again, I did not say goodbye to Ankara on my way to Slovakia, it was only until early sight! " Veronika
Dominika was there in February and in March 2017 she wrote this:
"my stay in Ankara is slowly coming to an end, so I could write what and how …. I can sum it all up in three words … I AM AWESOME! Everything is absolutely perfect, the organization, the other volunteers, I met great people from all over the world, the Turks are incredibly nice, friendly, helpful and hospitable, I didn't feel threatened for a moment, the work is great, especially in the Youth Center, I adore the kids, I'm starting to think I'll be back for 10 months.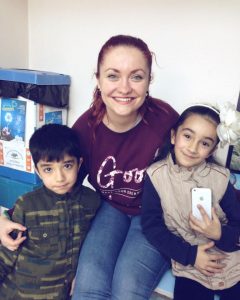 Petra was there in June – July 2017
and Iveta in August – September 2017
"EVS is, of course, positive. It's a pity that it only lasted a short 2 months, because we remembered a bit for the first month and then, when we "got in it" and started to understand a little Turkish, and so on, it was time to pack our bags. I was a little frozen that some of the other volunteers felt passive and inactive, but on the contrary, some of us really tried, we did what we could to be proactive, because I feel that this project was based on just that. . Overall, it was an eye-opening and very positive experience. The biggest impact on me was probably the contact with the children of Syrian refugees, the stories of Syrian families, when we saw with our own eyes the conditions in which they are forced to live. We also learned a lot about the situation from friends we found outside the organization – whether they were from Syria, Libya, Iraq or Turkey itself. Many thanks to you and the whole organization for making this experience possible and for helping the young people;) Thank you very much again for allowing me to experience so many things. This EVS will clearly remain one of the most beneficial experiences. You are doing a great job and I will recommend you where I move;) "Iveta