Date/time
Date(s) - 02/04/2019 - 09/04/2019
All day
Locality
Tortona, Italy
Project type
Selected participants
Summary what was training about:
"A+ Group Work" aimed to support 20 youth workers and educators (guided by 3 trainers) from 10 different countries in the development of their skills and the bettering of the activities and methodologies put into use when working on group and leadership dynamics; oriented towards a better awareness of interculturality with all disadvantaged groups in society.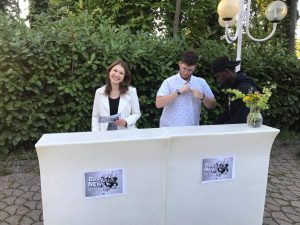 The Capacity Building and Evaluation Seminar in Tortona, Italy aimed to:
•Develop skills in the planning of a training activity on group work methodologies and leadership dynamics in project management
•Learn about challenges and issues with intercultural learning and awareness in Europe, and specifically from the Participating countries;
•Discuss how European youth work can reinforce equality and ensure that diverse groups of people get equal treatment during trainings or in other educational settings;
•Evaluate the individual learning process of the participants and have a look on the process of their self-empowerment and self-efficiency in dealing with group and leadership roles;
•To evaluate and reflect on the knowledge, skills and attitudes of the participants gained within the "A+ Group Work" training course;
•To evaluate Local Activities in Participating countries and present the project implemented through a dissemination event;
•To exchange best practices in relation to youth work and strengthen cooperation between the organizations based in the EU and non-EU countries;
•To exchange methods and develop new practices and projects on diversity and inclusion within the Erasmus+;
•To facilitate networking between participants and develop new projects dealing with diversity and Inclusion;
•To create a publication/handbook/video tutorials(based on the short guidelines written earlier) on the methodologies learnt and tested throughout the project, with feedback on the activities and best practices
Participants were from Italy

, Ireland

, Belgium

, Czech Republic

, Estonia

, Slovakia
, France

, Spain

, Finland

and Turkey

Participation in the project
If you would like to apply for project, please answer the following questions:
1. Question: What is your motivation to participate in the project?
2. Question: How do you think you will use the knowledge and skills which you gain at this project in your future life?
Prihlasovanie na tento projekt bolo uzatvorené. Momentálne prebieha výber účastníkov.