Date/time
Date(s) - 19/10/2019 - 27/10/2019
All day
Locality
Larnaca, Cyprus
Project type
Selected participants
What is it that unites Simonas from Lithuania with Vasiliki from Greece and Neville from Malta? All three work with young people. The European Programme Erasmus + Youth gave them the opportunity to meet in Cyprus with 30 more youth workers from 10 countries in the training course ADD ME- ADOPTING DIGITAL MEDIA IN YOUTH WORK organised by SEAL CYPRUS.
The participants explored ways of using Information Society Technology (IST) like the Social Media, and Information Communication Technologies (ICT) in youth work. The team of youth workers has worked on the following topics:
Secure online Engagement; ways youth workers can help young people manage online information and keep it safe from online risks like identity theft, phishing, internet scams.
Privacy Policies; practices to support the young people to understand privacy policies and what they really mean for subscribers.
Online Safety; methods to assist the young people in distinguishing between inappropriate contact and positive connections.
Ms Kristína Blažeková, a PhD candidate from the Slovak Academy of Sciences, has made an enlightening presentation on Fake News.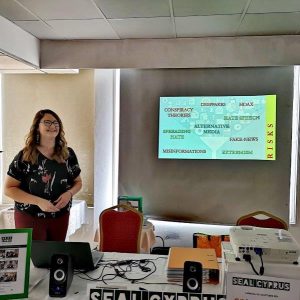 The participants represented Cyprus, Bulgaria, Romania, Slovakia, Greece, Czech Republic, Poland, Lithuania, Latvia, and Estonia. Our organisation ADEL has been represented by three youth workers.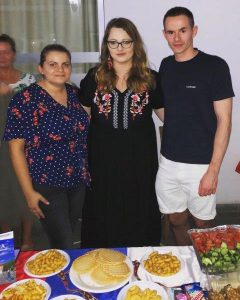 The delegates had the honour to be paid a visit by the Cyprus Commissioner for Volunteerism and NGO, Mr Yiannis Yiannakis, who engaged in a discussion about volunteerism in Cyprus, the contribution of young people, the improvements made in recent years, and the challenges still ahead.
A visit to the Europe Direct Information Center of Larnaca gave the participants a perspective on the role of information in the lives of European citizens.
The delegates also visited the Youth Makerspace in Larnaca, a space created by the Youth Board of Cyprus, where the young people have access to high-quality equipment such as 3D scanners, 3D printers, robots, mini-processors and virtual reality systems to develop their ideas.
The project was supported by the European Programme Erasmus+.
Participants were from Cyprus

, Bulgaria

, Czech Republic

, Estonia

, Greece

, Latvia

, Lithuania
, Malta

, Romania
, Poland

and Slovakia
.