Date/time
Date(s) - 16/05/2018 - 22/05/2018
All day
Locality
Denizli, Turkey
Project type
Selected participants
Guest User
Guest User
Guest User
Guest User
Guest User
Guest User
feedback from one of the participant:
"We all liked very much youth exchange. Most of us were in Turkey for the first time, so we had the opportunity to learn about local culture and customs in different fields. Together, we explored the city of Istanbul, where we came a few days before the project. Then we moved to Denizli where the project was held. Here we met the other participants immediately after arriving and they were participants from Turkey, Bulgaria, Romania and Spain. Everyone was very friendly. Later on, during the project, we had a variety of learning intercultural activities. We found that with some of them we are very similar and understand each others. The project was aimed at communication among people. We refreshed and learned different methods of communicating with people using telecommunication devices or oral, written, gesturing … activities were interactive and accompanied by a number of interesting and educational games.The best times were when we had a break and we could get to know each other, either by swimming in the pool, or often just by by playing some game or lying in the sun."
Dominika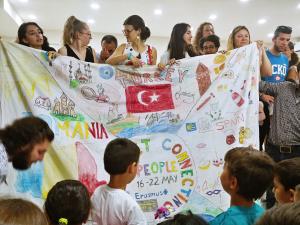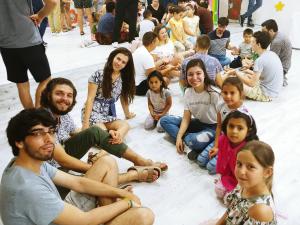 Summary what was youth exchange about:
Communication means understanding each other mutually. However, nowadays, people do not understand each other because we are connected to technology. Instead of talking face to face, we all make our communication via computer or mobile phones. This leads many serious communication problems and excludes being healthy societies. We – as a Social Communication Community- want to do this projects to save people from technology addiction and create awareness about it.
There were several workshops and discussions about this topic, teambuilding activities, intercultural evenings, possibility to visit the city etc.
Main ideas of these projects were to build new friendships, interact with new cultures and destroy the borders between countries. The subject of the project is just a vehicle to capture these.
Participants were from Bulgaria
, Romania

, Spain

and Slovakia

.
Participation in the project
If you would like to apply for project, please answer the following questions:
1. Question: What is your motivation to participate in the project?
2. Question: How do you think you will use the knowledge and skills which you gain at this project in your future life?
Pre tento projekt sme už vybrali účastníkov.