Date/time
Date(s) - 29/10/2017 - 04/11/2017
All day
Locality
Zafferana Etnea, Italy
Project type
Selected participants
Guest User
Guest User
Guest User
Guest User
Guest User
Guest User
feedback from one of the participant:
"The Digital Fingerprint Project in Sicily was greatly organized, people like me, who love pasta in all ways, have been experiencing maximum taste of happiness, even though we have been making fun of it all the last few days, I was disappointed when was no pasta for lunch. The organizers were professional and took care of all the problems that might have occurred. I am still in contact with trainers because they are great people.The theme of the project was quite interesting and I did not really know what I can expect. What I liked the most was the concept of serious and critical themes with every nation's views. I have to mention also a trip to Etna that the organizers have arranged. Although I am a fan of the cathedrals, but nature shows us that its real mother and therefore we should not underestimate her power. The connection of Czechs, Croatians and Slovaks (Slavic squad, as we called) I really enjoyed, because we spent the most of our time together and we made friendships for a lifetime hopefully. Intercultural nights were an interesting part of the project, just like Helloween. The whole week went too fast, and I was not ready for such an early departure from warm Sicily to our rainy Slovakia. I would like to thank ADEL for the great opportunity. I hope that I will be part of other projects in the future, because it is a great opportunity to learn something and to learn about other countries and cultures too." Dada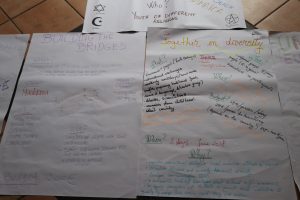 Summary what was youth exchange about: 
IN"Digital FINGERPRINT the main theme of youth unemployment but at the same time will focus on the importance of the development of personal skills, and the development and training in new ICT technologies as a useful and indispensable tool in these modern times that are governed by them.
"Digital FINGERPRINT" will take place in Zafferana Etnea in the province of Catania. It will have 40 youth participants aged 22-30 years from 5 countries: Croatia, Romania, Spain, Czech Republic Slovakia. It will take place the 29 of October to the 04 of November 2017. These countries will be
the co-organizers and recipients of all the project activities before, during and after. The activities will be carried out between 29 of October to the 04 of November 2017 in a hostel in the province of Catania. The goals of the activities are teamwork, active participation in a exchange of ideas, the elimination of communication barriers, and cultural diversity, all accomplished in a non-formal method.
The exchange will get work towards the hoped for results through group dynamics, lectures, presentations, simulation games / workshops, cultural games and ice breakers, panel discussions, exhibitions, presentations, meetings, cultural visits, cultural nights from each country, activities entertainment and other ideas proposed by participants that address the issue of youth unemployment and new technologies.
The language of the project will be English.
Particpants were from Italy

, Spain

, Croatia
, Romania

, Czech Republic
and Slovakia

.
Participation in the project
If you would like to apply for project, please answer the following questions:
1. Question: What is your motivation to participate in the project?
2. Question: How do you think you will use the knowledge and skills which you gain at this project in your future life?
Pre tento projekt sme už vybrali účastníkov.