Date/time
Date(s) - 12/11/2018 - 19/11/2018
All day
Locality
Dresden, Germany
Project type
Selected participants
Summary what was training about:
"I did not want to be a spectator anymore" – these words from Martin Luther King describe precisely the main aim of the proposed project. Discrimination, violence and racism are everywhere prevalent – bullying in schools, hate speech and hate crime against migrants and refugees, racist insults against LGBTs and minorities as well as sexual harassment against women. The Munich Institute for Law and Economics asked people between 16 and 76 whether they had ever witnessed a violent act. All answered with "yes" whereas when they were asked if they would have helped, 86% said no. The increasing phenomenon of xenophobia has caused a raise in violent acts in public space. On daily news we see quite often different forms of discrimination and racism against disadvantaged people. Democracy and Peace are threatened and often people are afraid or do not know how to react. But ignorance actually fuels the climate of violence. In such situations, civil courage in everyday life is needed. However, civil courage should advocate a humane and democratic interaction with one another, a culture of recognition and diversity, and the shaping and co-responsibility of an open society.

Frey (2003) describes civil courage as the willingness to engage in actions that require personal courage and relate to preserve and follow norms and fundamental rights in the society. The main aim of the training course is the promotion of civil courage based on democratic values.
To reach this overarching aim, five intermediary objectives were defined:
Raising the participants' awareness about democratic values
Developing social and cognitive skills
Strengthening self-efficacy of the participants
Encouraging personal responsibility
Building self-esteem and self-confidence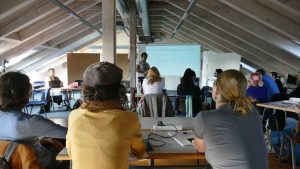 The training course raised the participants' awareness regarding the need for civil-courage in their daily life. The participants learnt how to take action and defend principles of justice, fairness and morality as well as to speak up in situations marked by injustice and racist discrimination. The participants learnt how to stand up for their opinions and rights and understand that silence is not a solution.
Participants were from Albania
, Macedonia

, Czech Republic

, Cyprus

, Spain

, Denmark

, Hungary

, Poland

, France

, Greece

, Serbia , United Kingdom
and Slovakia
.
Participation in the project
If you would like to apply for project, please answer the following questions:
1. Question: What is your motivation to participate in the project?
2. Question: How do you think you will use the knowledge and skills which you gain at this project in your future life?
Prihlasovanie na tento projekt bolo uzatvorené. Momentálne prebieha výber účastníkov.