Date/time
Date(s) - 15/10/2017 - 15/07/2018
All day
Locality
Terrassa, Spain
Project type
Selected participants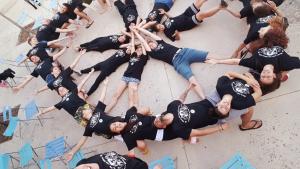 Anna was volunteering in the organization:
La Víbria Intercultural it's a small association placed in Terrassa (40 min from Barcelona) that works the interculturality and the peace culture by doing activities of non-formal education. In our daily work, we deal with youngsters in different ways: in one hand, we have some hours in the week dedicated exclusively to give information to youngsters from 13 to 30 years old, related to going abroad (to study, to do internships, for volunteering, to work…). On the other hand, we are partners with the European network of Erasmus+, and so, we are hosting, coordinating and sending organization for EVS, Youth exchanges and Training Courses. Moreover, we organize local projects related to interculturality.
and what was she doing?
EVS volunner gave support in our daily tasks in the office. So, that means:
– Administrative tasks: searching and contacting partners, signing mandates, writing and answering mails, communication in social network
– Give information about going abroad in the Youth Center
– Helping the coordination of Erasmus+ projects: sending people to EVS and Youth Exchanges; creating and writing projects, helping in the development of some of these projects, and organizing actively at least one project (Youth Exchange or Training Course).
– Promoting Erasmus+ activities: making activities and dynamics in schools or local organizations to talk about your experience and others related to volunteering or traveling abroad
– Being involved in the activities of La Víbria: local events, activities in the schools, activities related to interculturality.
Participation in the project
If you would like to apply for project, please answer the following questions:
1. Question: What is your motivation to participate in the project?
2. Question: How do you think you will use the knowledge and skills which you gain at this project in your future life?
Pre tento projekt sme už vybrali účastníkov.