Date/time
Date(s) - 01/08/2018 - 28/09/2018
All day
Locality
Latinovac, Croatia
Project type
Selected participants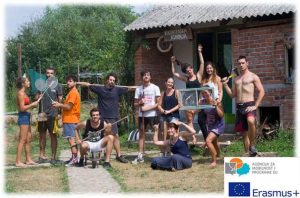 Specific objectives of this EVS project were:
To educate youth and local people about permaculture (theory and practice), sustainability, eco-building, food production… etc.
To help in the community at seasonal work during the summer
To develop hiking and cycling routes and promote them among the area
To support and develop community spirit, by helping each other and promoting activism
To promote mobility projects among youngsters, being the EVS volunteers an example of it
To highlight Latinovac into a bigger community, involving new people into community development
To create educational and entertainment activities for the local community
To support solidarity and community spirit, learning from intergenerational and intercultural exchange and mutual understanding about the community; on this way we decrease prejudices and stereotypes
To promote European values such as professional growth, activism, solidarity… etc
To help the volunteers to self-develop themselves through their personal projects
Specific Activities: Promotion and education of permaculture: practice in local properties, gardening, waste management and recycling, eco-building…etc
Healthy lifestyle education: healthy food workshops, gardening, international recopies, hiking and cycling…etc
Intercultural exchange: intercultural events involving the local community
Volunteer's personal projects
Fall Fest
More pictures are here: https://www.facebook.com/pg/latinovac.org/photos/?tab=album&album_id=1306554249497787 
Video from project/impressions of one of the volunteer is here: https://www.youtube.com/watch?v=UFIbgXI9ci8
Information about the village where EVS took place: 
Latinovac is one of the smallest villages in Croatia, located in Easter part. It is part of the municipality of Čaglin with approximately 60 inhabitants. This municipality is on the eastern part of the county of Pozesko-slavonska. It is consisting of 31 settlements. All together, this counts a population size of 2.691 inhabitants according to the 2011 population consensus index. What is striking however is a constant decrease of local population from 312 inhabitants in 1961 to currently 60 in 2015.
Volunteers were from Italy

, Bulgaria

, Poland

, Portugal

, Spain

, Greece

and Slovakia
.
Participation in the project
If you would like to apply for project, please answer the following questions:
1. Question: What is your motivation to participate in the project?
2. Question: How do you think you will use the knowledge and skills which you gain at this project in your future life?
Prihlasovanie na tento projekt bolo uzatvorené. Momentálne prebieha výber účastníkov.