Date/time
Date(s) - 23/07/2017 - 04/08/2017
All day
Locality
Mammaste, Estonia
Project type
Selected participants
Guest User
Guest User
Guest User
Guest User
Guest User
Guest User
Summary what was youth exchange about:
During the youth exchange participants discovered the basics of healthy eating​. They prepared a healthy daily menu,​ which was eaten in wild nature​, developing group work skills and learning about other cultures​. They did visual experiments about the sugar amounts in food and drinks we consume daily. Also participants searched for commercials from the city which influence people to consume more sugars and unhealthy food. There were also workshops where they tried some alternative ways to use sugar,​ like arts or making a body scrub. During the youth exchange participants also visited factories which produce high sugar level food and drinks. Participants could see how much unhealthy products are produced daily and can realize it as a huge health risk for all. During the youth exchange participants also made a video which can make other youngsters aware of the amounts of sugar they consume daily and influence to decrease it.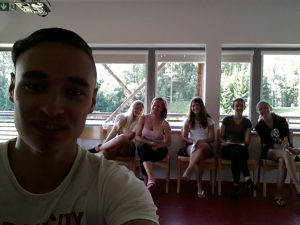 Main aim of the youth exchange "Oh My Sugar" was to promote healthy lifestyles among young people:
 To make them aware of impacts and possible consequences of overuse of sugar.
To draw their attention to high sugar content products harmfulness and to make them aware of healthier choices.
To develop their critical thinking and conscious healthier choice making in everyday life.
To introduce them social media and video editing operation principles for promoting healthy lifestyles.
To draw attention of young people's healthier dietary choices through social media.
To encourage an intercultural dialogue among young people through a healthy diet.
Participants were from Bulgaria
, Germany

, Italy,

, Spain

, Estonia

and of course Slovakia

.
Participation in the project
If you would like to apply for project, please answer the following questions:
1. Question: What is your motivation to participate in the project?
2. Question: How do you think you will use the knowledge and skills which you gain at this project in your future life?
Prihlasovanie na tento projekt bolo uzatvorené. Momentálne prebieha výber účastníkov.