Date/time
Date(s) - 12/08/2017 - 20/08/2017
All day
Locality
Brusel, Belgium
Project type
Selected participants
Guest User
Guest User
Guest User
Summary what was training about:
During training"People for Cities 2017″, we provided the participants with the opportunity to get insight in the different key elements that shape a city. Together we explored a wide range of grassroots movements, the concepts of active citizenship and involved them in different participatory processes used in urban policy making. Our goal was to make them reflect upon urban issues, such as air-quality, affordable housing, the welcoming of refugees, and how these elements influence all citizens, stakeholders, and as a result the city as a whole. By the exchange of projects, concepts and opinions, by gaining the necessary insight through interaction with different experts (academical or through experience) & visiting good practices, we strived to develop their knowledge, skills and competences on urban matters.
We also offered practical tools & workshops so youth and youth workers can initiate and coordinate grassroots movements/citizen's initiatives. Hereby facilitating them to develop their urban own action plan to make a positive change in their organizations, communities & countries.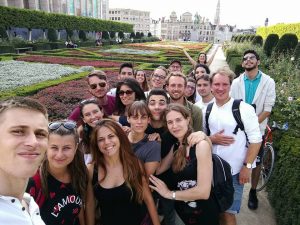 Objectives of the training were:
-Getting introduced to the concept of grassroots movements, active citizenship and inclusive cities
– Learn about active participation in order to influence policy making
– Gain insight on how existing projects have influenced policy in different cities
– Learn how to approach the specific investigated themes, keeping in mind all their aspects and the different stakeholders
– Develop skills to come  up with and implement projects to promote inclusive cities by several workshops and participating in existing initiatives from stakeholders
– Learn how involve people in successful grassroots movements – Make an action plan for local actions when returning to their own reality and provide a platform to encourage the exchange of their actions
Participant's.
Participants were from Bulgaria

, Croatia

, Cyprus

, Greece

, Italy

, Lithuania

, Poland

, Romania

,  Slovakia
, Slovenia

and Spain

.
Participation in the project
If you would like to apply for project, please answer the following questions:
1. Question: What is your motivation to participate in the project?
2. Question: How do you think you will use the knowledge and skills which you gain at this project in your future life?
Pre tento projekt sme už vybrali účastníkov.