Date/time
Date(s) - 12/06/2017 - 21/06/2017
All day
Locality
Tsaghkadzor, Armenia
Project type
Selected participants
Guest User
Guest User
Guest User
Guest User
Summary what was youth exchange about:
Some of us were born in big crowded cities, the others in small towns or villages with beautiful nature and breathtaking landscapes. But somehow most of us seek to remove to more developed industrial places convinced that it will increase our chances of better job and life itself, thus underestimating the opportunities that could offer us our home place. Nowadays rural development is more than ever before linked to entrepreneurship. Rural entrepreneurship in its turn has an enormou employment potential and the promotion of entrepreneurship among youngsters aimed at rural areas can be used as youth unemployment tackle strong tool.
Ability to discover the potential of rural areas from labor market perspective and the development of entrepreneurial competencies among youth is of essential importance as it can have two-side strong impact; employability facilitation and rural areas development. Our working team with various non-formal learning methods and with learner-based participatory principles created a space and conditions for young people for self-empowerment and re-evaluation of certain topics.
They identified new possibilities and develop useful personal and social skills. Meantime they had an opportunity to meet local and see examples of successful rural entrepreneurship and get motivated as well as will motivate locals with their presence and interest in rural development. Youth exchange gathered 40 young people and youth leaders from 8 countries that are interested in rural areas beneficial potential as well as in development of their entrepreneurial competencies.
Objectives of youth exchange were:
to increase young people's self- empowerment
to develop entrepreneurial competences of young people
 to promote the development of rural areas
 to form a network among like-minded organizations and individuals with an interest in long-term cooperation in the field of the youth exchange/training/seminar
to develop follow-up projects on the similar topics
There were participants from Spain

, Estonia

, Belarus
, Slovakia
, Ukraine

, Romania
and Georgia

.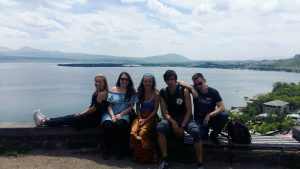 Participation in the project
If you would like to apply for project, please answer the following questions:
1. Question: What is your motivation to participate in the project?
2. Question: How do you think you will use the knowledge and skills which you gain at this project in your future life?
Prihlasovanie na tento projekt bolo uzatvorené. Momentálne prebieha výber účastníkov.