Date/time
Date(s) - 26/11/2017 - 04/12/2017
00:00
Locality
Nowy Sacz, Poland
Project type
Selected participants
feedback from one of the participant:
"It was my first project and I am very very happy that I was able to join it. It was an absolutely amazing experience! People from different countries, aged from 18 to almost 50, of different professions, but somehow all connected with youth work and creativity.
We all received tons of useful information and in a very creative way! We made our own visual vocabulary, learned about sketchnoting, prepared different practical templates, developed our knowledge about all possible ways of visual presentation of information… That was really a lot of info for just 1 week. In some free minutes, we had additional workshops on calligraphy, bookbinding and making of Zines. Throughout the day we also used various energizers – short games – to keep us focused and to maintain positive attitude; those were new to me and I am going to use them in my own future practice. 
The venue of the event was also very comfortable, but I totally recommend everyone to stay out of your room – don't miss all the fun! Be active and grab all chances to become better, smarter, widen your scope."
Kateryna
Summary what was training about: 
See, Draw, Learn was a highly practical, hands-on training course aimed at improving the quality of communication and educational activities of youth NGOs. This was done by means of providing their staff (e.g. trainers, facilitators, teachers, coaches, youth work practitioners, volunteers and all those engaged in conducting educational activities) with a set of tools and practices for enhanced visual facilitation.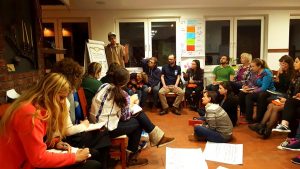 In order to reach the project aim, the following objectives have been set:
>> to explore and better understand the need for visual facilitation of learning in the youth activities nowadays;
>> to bring together 30 practicing facilitators with lack of or low visual presentation skills and newcomers in the facilitation field so as to explore the benefits of visual facilitation;
>> to explore and learn the variety of tools and methods applicable for visual facilitation and mapping of educational and informational activities in the youth field; learn
>> to develop participants' skills in using important components of visual facilitation: shapes, colours, composition, hand-writing, paper-fold and -cut techniques, visual metaphors, analysing and summing up of information;
>> to set up the basis for further development of these skills on individual and organisational level in order ensure the exploitation of newly gained knowledge for the benefits of NGOs and a variety of learners we work with.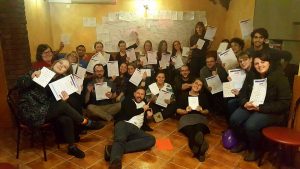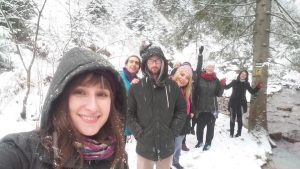 The working methods of the training included typical non-formal education methods, focused on individual and group exercises, workshops, live presentations, discussions, quests for experience and tests for skills. Though, training course was a hands-on activity which means that project's agenda included a lot of creative practical tasks allowing participants to reveal their talents and master facilitation skills.
Participants were from Austria
, UK
, Latvia

, Estonia
, Greece

, Croatia
, Turkey
, Romania

, Norway
, Czech Republic

and Slovakia

.
Participation in the project
If you would like to apply for project, please answer the following questions:
1. Question: What is your motivation to participate in the project?
2. Question: How do you think you will use the knowledge and skills which you gain at this project in your future life?
Pre tento projekt sme už vybrali účastníkov.