Date/time
Date(s) - 04/08/2017 - 10/08/2017
All day
Locality
Iscar, Spain
Project type
Selected participants
Summary what was Training Course about:
"Social Media for Learning" was a project where participants learnt how to use the social nets and social media in an educational way. TC "Social Media for Learning" addressed a main themes that is education and youth unemployment. During this exchange the participants learnt about different methods, activities, and different uses how to use the social media in order to learn and teach with them.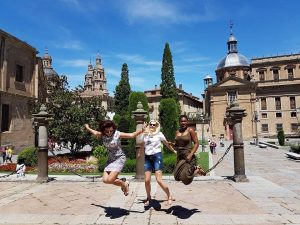 There were various activities during training: working groups, discussions, lectures, simulation games/workshops, icebreakers, roundtables, exhibitions, cultural tours, cultural nights, entertainment activities and other proposals for future networking on the issue of youth unemployment and new technologies.
Participants from Netherlands

,  Greece

, Italy,
, Portugal

, Latvia

, Romania

, Spain

and Slovakia

met and learnt together.
Participation in the project
If you would like to apply for project, please answer the following questions:
1. Question: What is your motivation to participate in the project?
2. Question: How do you think you will use the knowledge and skills which you gain at this project in your future life?
Pre tento projekt sme už vybrali účastníkov.