Date/time
Date(s) - 28/11/2017 - 02/12/2017
All day
Locality
Lesko, Poland
Project type
Selected participants
feedback from participant:
"The project was focused on the topic of entrepreneurship and the creation of new projects . We have learned how nonprofit organizations work in the countries that participated in this project. We and Peter presented our experiences with Erasmus + programs at the local college in Sanok. Age of the participants was diverse, what allowed not only intercultural dialogue but also discussion and mutual enrichment of participants from multiple age groups. We were a great team, so I believe that the contacts and friendships of this training will last and future cooperation on other projects will be possible. The only pity was that the training was so short :)" Simi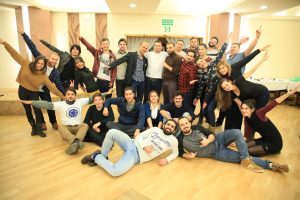 Summary what was training about: 
Goal of the project was to exchange experience between the leaders, youth workers, trainers, in order to increase the knowledge about entrepreneurship among young people. Many activities were realized during the training using methods of non-formal education and using English for communication. The working methods were: discussions, integration games, work in groups, meetings with experts, presentations, integration games, themed activities, discussions, city game, national and regional evenings, meetings with local community, daily evaluation sessions etc.).
The project was an opportunity for us to gain valuable experience, knowledge, new friendships and attitudes, that had a positive influence on our future.We wanted to create strong partnerships in order to implement joint initiatives in the future. Project resulted in higher quality of the activities carried out with young people to promote entrepreneurship as well as an expert publication for the young workers. Our long term benefit after seminar are new created initiatives based on the stable and solid partnership in the topic of entrepreneurship among young people.
You can find all information about the project here: https://drive.google.com/file/d/1nGBB1HfMCsjXWshgVuLBwbUS03FBBc5Z/view
Participants were from Poland

, Lithuania
, Italy

, Romania
, Bulgaria

, Macedonia

, Latvia

, Turkey

, Greece

and Slovakia
.
Participation in the project
If you would like to apply for project, please answer the following questions:
1. Question: What is your motivation to participate in the project?
2. Question: How do you think you will use the knowledge and skills which you gain at this project in your future life?
Pre tento projekt sme už vybrali účastníkov.