Date/time
Date(s) - 20/09/2018 - 28/09/2018
All day
Locality
Mileto, Italy
Project type
Selected participants
Guest User
Guest User
Guest User
Guest User
Guest User
Together we can R.E.A.C.H. (Recover European Ancient Cultural Heritage) 2 was the second chapter of a Youth Exchange funded by Erasmus+ program carried out in Mileto from 20 to 28th september 2018.
The project born from the analysis made by a group of young people, that shows the decrease of new handcraft enterprises in the last 3 years but at the same time, recent studies show that the employment of handcraft jobs will increase in the next 10 years and they will be the most wanted jobs. Customs and craft will became through the new technologies excellent struments of growth and innovation.Analyzing the problem, the reason why there is no appeal on those jobs is that they are handjobs,  old ones and  therefore less attractive for the young generation.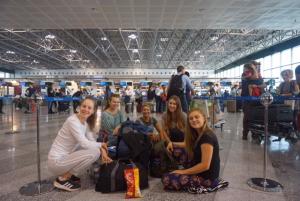 The project was carried out by the Civitas Mileto Team with a huge enthusiasm and with the collaborations of our partner from Germany, Greece, Slovakia, Poland, Lithuania, Romania and Spain. In some of these countries the youth unemployment is really high, but at the same time there is a strong employment potential that comes from tradition, culture and handcraft jobs. The goal of the project "Together​ ​ we​ ​ can​ ​ REACH 2" was to change the negative perception that handcraft jobs have. Recover and protect ancient craft, transfering skills and knowledges to the new generations with the goal to build training paths, employment and entrepreneurship ok cultural heritage.
During the Youth exchange the young participants through non formal activities have developed knowledges and skills that are really important for employment, civil and social aspects. The participants learnt how are important traditions in their community and how they are  important to create new job opportunities using the cultural heritage. They have developed the ability to evaluate and realize new ideas that will give them more confidence to face new paths and to carry out new projects. During the youth exchange the 40 young participants had the opportunity to know the rich history of Mileto visiting the museum, the cathedral and the archaeological park and then working in team to create modernisation and innovation plans to increase the tourism in the Norman capital. Obviously during the project the participants have got leisure time visiting the awesome coast of Gods spending there the whole day and enjoying the famous and the gorgeous sunset in Tropea.
The City Council has welcomed the Erasmus group giving some tastes of typical products  enogastronomic excellents of Calabria, giving them participation certificates.
Participation in the project
If you would like to apply for project, please answer the following questions:
1. Question: What is your motivation to participate in the project?
2. Question: How do you think you will use the knowledge and skills which you gain at this project in your future life?
Pre tento projekt sme už vybrali účastníkov.