Date/time
Date(s) - 01/12/2017 - 10/12/2017
All day
Locality
Mali Iđoš, Serbia
Project type
Selected participants
feedback from one of the participant: 
"Hello, it was really cool because the program was very well planned and the workshops were interesting. We had to prepare our own session on 3 themes, we were divided into groups for 6 people and it was actually the outcome and to try out the work as the trainers. My session was about how to involve photography in different learning sessions and also great was to learn how to solve conflicts. We all gathered together a nice group of people, we had a trip to Novy Sad , there was always enough food and refreshments during coffee breaks, we had about 3 hours of free time in the afternoon….so to sum up, we like it very much" Lucia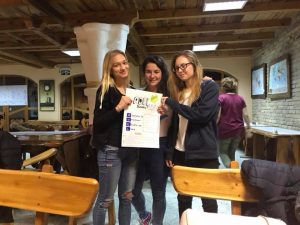 Summary what was training about and what were its objectives:
To empower new generation of youth leaders and raise their competences in all the needed knowledge and skills needed to act as trainers of non-formal education activities (communication and presentation skills, facilitation and debriefing skills, dealing with conflicts, challenging teamwork and barriers to learning skills, etc.)
To empower their competences for quality development of different non-formal education activities / programmes for inclusion and acceptance of diversity
Increase awareness and knowledge about EU possibilities and Erasmus+ and developing new projects and future European level cooperation among partners with topic of inclusion and acceptance for and with target groups of immigrants and asylum seekers youngsters
Training course was based on the approach, principles and methods of non-formal education. The language of the training course will be English.
Participants were from Italy

, Serbia

, Croatia
, Macedonia
, Bosnia and Herzegovina

, Czech Republic
, Greece

, Kosovo
and Slovakia

.
Participation in the project
If you would like to apply for project, please answer the following questions:
1. Question: What is your motivation to participate in the project?
2. Question: How do you think you will use the knowledge and skills which you gain at this project in your future life?
Prihlasovanie na tento projekt bolo uzatvorené. Momentálne prebieha výber účastníkov.