Category:
Stories of participants
During days 27.-4. November took place in Constanta city  Youth exchange with title Media4you! Constanta  is the city, which is situated in beautiful surroundings in cost area, approximately 2 hours by car  from the capital city Bucharest , where met amazing group of 66 youngsters from Slovakia, Lithuania, Greece, Macedonia,Croatia, Serbia, Romania, Bulgaria,Turkey, Germany and Italy.

Together with great team of people, which took care of us all the time, we experienced unforgettable staying full of not only brilliant experiences, but also amazing adventures and international friendships.
Youth Exchange Media4you was focused of development of individual skills and increase knowledge about topic.
The activities were aiming at creating or upgrading own curriculum, simulation of journalist, workshops about the topic and how to increase knowledge about hoaxes and fake news  in our country.
After all, this project amazed us and we can´t wait till we will meet again in other Erasmus+ project. We are with all 5 for projects like this. We would like to support participation in similar projects to not throw away opportunity for self-development, to improve language skills and to get to know new people.
More information about youth exchange here: https://www.adelslovakia.org/en/events/media4you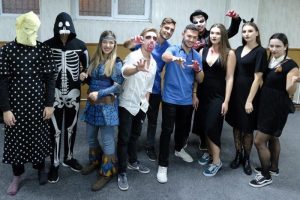 Marko Kovač