Dátum konania
18/07/2017 - 07/08/2017
Miesta konania
Vaas, France
Typ projektu:
5ti Slováci boli vo Francúzsku na 3-týždňovej výmene ktorá sa však líši od iných tým že sa o všetko starajú sami – varia si, upratujú atď. a písali o nich už aj miestne noviny 
 Článok s dojmami od účastníkov z výmeny si môžete prečítať tu: https://www.adelslovakia.org/pribehy-ucastnikov/vynimocna-3-tyzdnova-vymena-na-francuzskom-vidieku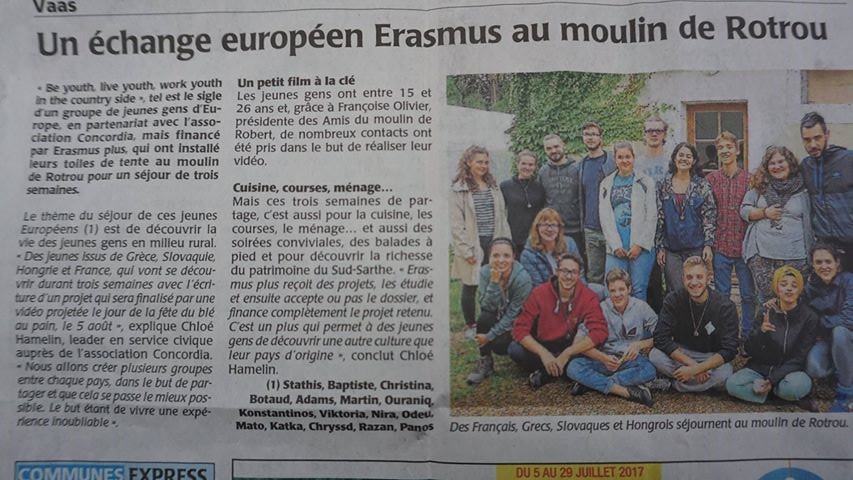 Zhrnutie o čom výmena bola:
We wanted to gather youth and their creativity in a specific rural area. We wanted to create a report of the all the jobs which are existing in those areas, to valorize it, for the youth and inhabitants, from the country side to the urban side. The idea was to create a short-movie to report it. Participants also took part in the organization of cultural local events, with some European games and the exhibition of their reporting. Youth Exchange were organized in the following 3 main phases: Investigation (What?), Creation (How?) and Showing Up!
1. WHAT?
During the Investigation Phase, participants tried to gather as much information as possible about the life in this area. The working possibilities … they had to find local initiatives, local small organisations, gathering of inhabitants. They draw a picture of the situation of Be youth, living youth, working youth … in the Country Side. They also discussed how it is in their country, what comparison they can make
2.  HOW?
The Creation phase was the moment when participants had the opportunity to create a tool for their report. They followed some video workshops and got some technics of shooting and editing. With the elements collected during the investigation phase and after some expression and creative workshops, we created a short movie from their report.
3. SHOWING UP!
During the showing up phase, participants organized an event with and for the inhabitants, for them to discover their short movie.
Objectives of the project:
To exchange on the different way to see the rural world
To support Young people who wish to have a more important acting-power
To promote the exchanges of knowledge between youth
To support youth in the development of their initiatives
To facilitate the sharing of personal experiences from the youth
Project results:
SHORT MOVIE: Participants will create a short movie gathering the living and working possibilities for the youth in the country side, here and there.
VIDEO OF THE PROJECT: showing the methodology used to come up with this report : from the investigation phase to the presentation of the movie to a public.
FACEBOOK PAGE: We will also create a Facebook page only for the project to allow the participant to get to know each other before the exchange and stay in touch after. It will contribute to enlarge their network and maybe to have more possibilities of activities.
DAILY REPORT: A summary of each day will be realized by a team of 2 people in order to have a global look on the project at the end.
Methodology:
The methodology (non-formal education, storytelling, discussions) and the structure of the exchange encouraged an active involvement of each participant in order to develop competences and new tools for a personal and social development. Non-formal education tools were used to create a friendly and attentive atmosphere, considering each participant in his or her diversity, personality and culture, so that each person can feel free to express him(her)self, share his or her experiences, teach and learn from the others. Expression workshops allowed to the youngsters to discover new ways of expression, encouraging their creativity and ability to create collectively, and to gain in self-confidence.
Na výmene boli účastníci z Maďarska

, Slovenska

, Grécka

a Francúzska
. Z každej krajiny bolo 5 účastníkov.