Dátum konania
05/06/2017 - 13/06/2017
Miesta konania
Liepaja, Latvia
Typ projektu:
"9 perfektných dní strávených so skvelými ľuďmi v parádnom prostredí. Tento tréning bol pre mňa naozaj obohacujúci, riešili sme neustále zaujímavé témy a na konci sme v tímoch museli vytvoriť aj vlastný workshop, ktorý sa následne aj aplikoval. Stimulovalo to našu kreativitu a schopnosť rozmýšľania. Zlepšili sme si určite aj komunikáciu v anglickom jazyku a prezentačné zručnosti. Môžem len chváliť celý tento projekt a vyzvať všetkých aby sa nebáli vystúpiť zo svojej komfortnej zóny, zapísali sa na jeden z množstva projektov, ktoré ADEL zdieľa a vyskúšali si to na vlastnej koži, pretože pocity sa v slovách len ťažko opisujú." Andrea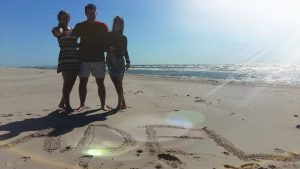 Summary what was TC about:
We proposed a project to explore how cultural diversity can be used as a positive and powerful tool within local youth work activities and European youth exchanges by active participation of young people.
The overall aim of the Training Course:
The aim was to build tolerance towards cultural diversity and find common European roots throughout the active participation of young people can be a great step towards prevent radicalisation of young people. As youth workers and youth leaders we believe that we have to be able to provide equal opportunities for our diverse target groups and for the sake of local communities we have to facilitate cultural diversity workshops locally and European level where different culturally and religious young people can get to know more each others, understand their cultural differences and similarities and its' roots and learn to accept and tolerate each others.

Learning objectives of the Training Course were:
To raise understanding in human rights educational approaches mainly in connection with cultural diversity in order to prevent radicalisation of young people in our local communities;
To develop an understanding about aspects of active youth participation and critical way of thinking with elements and methods of non formal education within our youth work activities locally and European level;
To be aware of importance of cultural diversity in local, regional and international level and to develop skills and attitudes to motivate and actively involve our young people in human rights youth projects as preventing radicalisation of young people;
To develop the necessary knowledge, skills and attitudes of ours as youth workers, youth leaders to prepare, run and evaluate a cultural diversity workshop in order to prevent radicalisation of young people locally and within youth exchanges;
To offer the opportunity to meet partner groups and develop concrete ideas for future projects focusing on cultural diversity and active participation of young people in order to prevent radicalisation of young people.
The methodology of the Training Course:
The training course was followed by the non-formal education approach. A combination of the different creative and interactive methods were used by the international trainers' team and designed upon the profile of participants. The learning of new skills, the acquisition of knowledge and the exchange and challenge of each other's attitude and experience were very important within this training course.
Final booklet is here: https://www.flipsnack.com/cccbiid/ccc-campaign-booklet.html 
Project was organized by the BIID Association from Latvia and financed by the European Comission in the frame of the Erasmus+ Program through the Latvian National Agency.