Dátum konania
13/12/2019 - 20/12/2019
Miesta konania
Manchester, United Kingdom
Typ projektu:
"One week in Manchester, UK  (probably the least touristic city in Europe I've visited). Being able to spend one week in Old Trafford neighbourhood filled with various migrants and cultures in peaceful coexisting made me indeed think about the importance of accepting migrants and refugees… 
We have discussed many aspects of migration also with focus on actual situation in some European countries. Thanks to various activities, sessions and discussion we have clearly understood the difference between Migrants and Refugees in real life.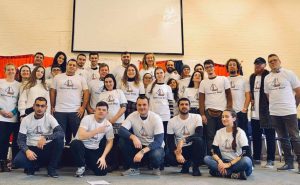 After the stories counted by Syrian and Jamaican migrants, I can't stay more the unfair approach of institutions and politicians threatening people who are searching for better life in Europe. 
My full support goes to people who are forced in a way or another to move or to flee.
Last but not least we have visited Charity Community where volunteers are caring and supporting migrants in Manchester over 10 years." Ondrej Ivan
Viac informácií o čom podujatie bolo:
Our organisation (Beat Bazaar Projects) runs projects based on tolerance, living together, sharing cultural diversity, local multiculturalism. Our experience is that, if in a project Refugees and local young people participate together, they can enjoy the cultural diversity, and learn a lot about each others culture. Refugees and migrants live everywhere in the European Union. On one hand they are seen as a big challenge by different societies because they go against the written and unwritten rules of mainstream societies; they follow their own rules which are not always understood by the majority; perhaps they do not necessarily want to be integrated into the majority, or if they do, they become outsiders from their own cultural communities and the majority don't accept them either. Of course, it depends what type of migrants' culture we meet. The culture of 'migrants' is much broader and more diverse than perceived by european cultures, which tend to generalise migrants, develop prejudices and stereotypes, as well as negative opinions. These stereotypes and opinions need to be challenged.
This Partnership Building Seminar aimed to bring together youth workers, youth leaders, project managers directly working with young people and people with a migrant or a refugee background in order to explore together migrants' culture and to share the political, cultural, educational, economic approaches of different countries towards migrants and refugees. The seminar gave participants the opportunity to share ideas, discuss various approaches on working with refugees and migrants; and develop youth projects that challenge stereotypes and prejudices, bring people together and celebrate intercultural youth work.
In this seminar we planned to build partnerships between organisations working with migrants and young people through supporting each others' local work and inventing youth exchanges together for two reasons:
Migrants and refugee young people from different cultures from different countries can meet each other and share their cultural background. Maybe this way they can better understand their roots and gain positive point of views for their future.
European and migrants' young people can get to know each other better and use migrant culture as a positive tool during the youth exchanges.
So the overall aim of this long term project is to provide a safe space and opportunity for youth workers, youth leaders from European and migrant' communities to work together, to share their information and knowledge on migrant' cultures, to break stereotypes and prejudices concerning migrants' people and share experiences how to bring different groups of young people together. To get familiar with the diverse migrants' cultures and use it as positive tool in youth work. To establish partnerships and devise youth exchanges in order to involve young people from European and migrants' communities, to work together and gain knowledge about migrants' cultures.
Learning objectives of the partnership building seminar were:
To share and explore together the different elements of migrants and refugees' cultures in different countries;
To find the impact on migrants' culture in the mainstream culture in order to recognise the mutual intercultural learning between European and migrants and refugees' communities;
To share methods and techniques on working with European and migrants and refugees young people together in order to break the stereotypes and prejudices;
To devise and develop youth exchanges together in order to involve young people from European and migrants and refugees' communities to act together and gain knowledge about migrants' cultures;
To build solid partnership among represented organisations.
The methodology of the partnership building seminar:
Experienced trainers prepared the methods based on the expectations and needs of the participants. They provided participatory and creative methods, which ensured the participation of experienced and less experienced participants. Some methods we used: individual, pair and mixed group work, drawings, montage/collage, group discussions, brainstorming, role play, methods' market, preparing a booklet, visit to good practice project, idea and project development, etc.
Účastníci boli z Chorvátska

, Rumunska

, Maďarska

, Bulharska
, Turecka
, Litvy

, Talianska
, Grécka

, Veľkej Británie
a Slovenska

. Z každej krajiny bolo po 4 účastníkov.