Dátum konania
20/10/2017 - 20/12/2017
Miesta konania
Helsingborg, Sweden
Typ projektu:
feedback: 
"…naozaj som rada, že som tam šla! Ku koncu som vedela už aj s ľuďmi komunikovať po švédsky, tak to začalo byť naozaj obohacujúce. Mne to veľmi dobre padlo na tie dva mesiace, oddýchla som si, zmenila prostredie, učila sa rôzne jazyky, skúšala som rôzne veci a stretla som naozaj rôznych ľudí. Najväčším prínosom bolo dohodnutie spolupráce s miestnym gymnáziom, kde som pomáhala s angličtinou – dokonca mi verili dosť na to, že ma hneď v prvý týždeň dali zastupovať chýbajúcu učiteľku. Keď sa vrátila, moja úloha už bola menšia, ale aj tak som sa veľa naučila. Deti boli skoro všetko imigranti, ale nikdy som nevidela milších a zvedavejších pubertiakov:)) Aj so spolubývajúcimi sme si rozumeli. Bolo veľmi dobré, že som tam nebola sama – lebo ako je známe, škandinávci sú kúsok uzavretí, takže bez tých 2 Talianok a jedného Španiela by to bolo asi naozaj oveľa ťažšie (=sociálny život skoro 0 – hoci ku koncu sa to trochu zlepšilo, keď sme sa začali stretávať s ďaľšími zamestnancami, tiež imigrantami – ale väčšina ľudí s ktorými sme boli v kontakte boli teda pre mňa tí mladí žiaci, alebo potom ľudia starší, s vlastnými rodinami a neustále "busy")." Mária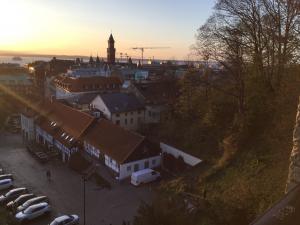 O organizácii kde Mária pôsobila:
The municipality of Helsingborg, the Labor Market Committee, addresses the following areas: labor market, social allowance, diversity and refugees, and adult education. We exercise public authority in the areas adult education and social services. We are a committee that works with both ordering and performing guidance and coaching. We are approximately 500 co-workers situated in four different locations. We work with many different target groups: unemployed youths and adults, people who want to study, newly arrived to Sweden, SFI (Swedish for Immigrants) and people with financial issues. Our organization is the entrance to social support in Helsingborg. Many of the young person's we work with are NEETs (Not in Education, Employment or Training). In this group we find young persons that have dropped out of school, that have chosen the wrong high school-program and are waiting a year to start in a new program, that do not have the grades to start high school and that do not have the grades to get a high school degree. Many of the young people have fewer opportunities, for example social and economic obstacles as well as educational difficulties. We see that we have the resources to support young people with fewer opportunities as we already have a well-developed network of cooperation partners and experience of working daily with the target group. To be able to support people to get an employment and to get self-sufficient we need different solutions for different situations and needs. Therefore our functions and work methods constantly need to be developed. Within the organization we have a wide range of professions such as social workers, student counsellors, coaches, budget advisors, teachers and others that can give support in social issues.
We offer personal coaching, support and motivation activities and try to visualize opportunities. Resources in our organization are, among others, social service, trainee programs, support for special needs, study assistance, motivational coaching, CV-writing, job interview training, health activities and vocational guidance. All employees are, together with the client, working toward the aim to achieve self-sufficiency. We work with many different target groups: unemployed youths and adults, people who want to study, newly arrived to Sweden, SFI (Swedish for Immigrants) and people with financial issues. For us it is important to develop new methods to be used in the daily work.
It is a political issue in all of Europe to work with young people's employment, integration and education, both in formal and informal ways. That is what the project INSIGHT aims at. We want to give our volunteers, an insight as of how we in a municipality in Sweden work with young unemployment and all the issues that can be the reason for that the young individual does not get a job. The volunteer get an insight in how we meet young unemployed young people in our municipality in Helsingborg, that needs help and guidelines in many diverse ways. Individuals in our target-group might be recommended to participate in different programs that suites there needs, to get them more employable. There is not always a straight line to work, the youngster might have to take a, or several detours, before they are ready for the labor market that is way we also have many field-studies in this project. Our organization and the volunteer's base, were most of the young unemployed have their platform within the municipality of Helsingborg.
The volunteer primarily worked along side with coaches that have individual coach meetings with the unemployed and group sessions with various modules related to employment and employability. Volunteers also promoted Erasmus+ and EVS and encouraged youngsters to see the possibilities and get a insight of how it is to be a volunteer.
Účasť na projekte
If you would like to apply for project, please answer the following questions:
1. Question: What is your motivation to participate in the project?
2. Question: How do you think you will use the knowledge and skills which you gain at this project in your future life?
Prihlasovanie na tento projekt bolo uzatvorené. Momentálne prebieha výber účastníkov.