Date/time
Date(s) - 30/08/2017 - 08/09/2017
All day
Locality
Sarata Monteoru, Romania
Project type
Selected participants
Guest User
Guest User
Guest User
Guest User
Guest User
"Hi. As a team leader, I would like to briefly comment on the exchange in Romania in Monteoru / Buzau 30.8-8.9: I would like to thank ADEL for the opportunity to travel and explore such a wonderful country as Romania, on behalf of the entire Slovak team. We really enjoyed youth exchange a lot. I think we were a really strong team and we did not have any problems with communicating or managing different activities. Immediately at the beginning, we met with other participants and during the whole exchange there was a friendly and relaxed mood. The theme of our exchange was "water is life, water is energy, water is future" …. Workshops and activities were really on high level, and we brought home a lot of new information and experience. We also made friends from many corners of Europe and had the opportunity to learn about their countries at least from their narratives. I think I can declare for the whole Slovak group that it was a wonderful exchange and we would not change a single moment. Sincerely Leader with all team. Barbora Borošková, Martin Saliny, Lenka Pogi Hátašová, Monika Trembecka and Edita Hlaváčová"
Summary what was youth exchange about: 
"Water is life. Water is energy. Water is future" was an exchange that took place place in Sarata Monteoru and Buzau between 30 august and 8 september 2017. The context is linked with the problems generated by water quality due to irresponsible home and industrial consumption of water, using of chemicals in agriculture, chaotic tourism on seaside and regains with rivers and lakes,wasting of water in different situations. Aim of the youth exchange was to increase the responsibility of youngsters for environment sustainability and a better life quality by empowering fight against water pollution
The objectives of youth exchange were:
to provide to 45 youngsters from 8 countries a common space to reflect on cultural diversity,european cooperation and healthy life style
a better understanding by youngsters about role of water in life and society and about importance of protection and conservation of water
a larger awareness of role of water's energy and the need of reduce wasting
promote among youngsters a new responsible attitude for preservation of water and identify by creative methods new solutions for rise the sustainability of environment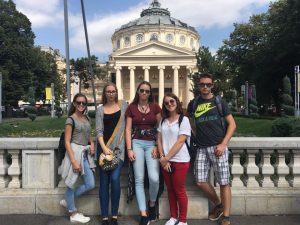 The methodology was based on non-formal education and consisted in games, presentations, debates, role plays and simulations, workshops, visits, intercultural evenings. Forseen activities were for preparation,, introduction and getting to know each other,trust and team building,presentation of participants and organizations,introduction of Erasmus + programme and youthpass certificate,cultural and study visits in Buzau region.There were 3 groups of workshops where were presented results of preparatory phase,were identified thematic aspects about water and environment, new projects were created to promote water protection. In the creative workshops were prepared a visual campaign by produce videoclips, flyers, posters and a guide, all products were shared in the last day in Buzau together with local youngsters.
45 young people from Cyprus  

, Estonia

, Italy

, Latvia
, Macedonia

, Romania
, Slovakia
and Turkey

participated in this youth exchange.
Participation in the project
If you would like to apply for project, please answer the following questions:
1. Question: What is your motivation to participate in the project?
2. Question: How do you think you will use the knowledge and skills which you gain at this project in your future life?
Pre tento projekt sme už vybrali účastníkov.