Date/time
Date(s) - 16/09/2017 - 24/09/2017
All day
Locality
Teixoso, Portugal
Project type
Selected participants
Guest User
Guest User
Guest User
Guest User
Guest User
Summary what was youth exchange about: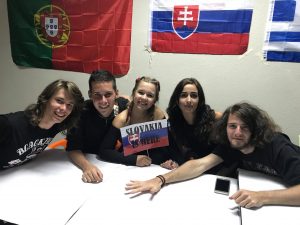 Our project entitled "Building bridges between generations" was composed of 4 youth organisations. The main activity of the project was a youth exchange which gathered 24 young people. The main topics of our project was related with intergenerationality, which should prepare participants to better act and cooperate with older people, and also helped them self development.
The aim of the project aims was to give visibility and support for active European citizenship of young people and workers active in the field of youth by strengthening their role as key actors in the development of local communities. It was intended that a group of young people, through their own initiatives to develop projects of solidarity between generations by performing specific actions. They benefited from visits to schools, day centers, local associations active in youth or elder fields promoting socio-cultural and exchange of experiences between generations. Young people developed their own content to be promoted taking into account the values of the European Union, intergenerational solidarity, inclusion, fighting poverty and marginalization. Above all, an aging Europe aims to become a combat loneliness common in older layer, which are categorized as the weakest elements of contemporary societies. Such activities will enable the recognition of social work and youth becoming visible and validating key competences also aiming to support youth employability and technical youth. We intented to develop a scheme of informations sessions using dynamic and animation skills to transmit values of the European Union to specific target groups as "European Union at your door".
Our activities were based on non-formal methods such as informal discussions, panels, workshops, national evenings, and with interactions in the local community. We shared the effects of our work with educational institutions, other NGOs, partner organisations, local authorities and with other local organizations.
Participants were from Portugal
, Slovakia
, Italy

and Greece

.
Participation in the project
If you would like to apply for project, please answer the following questions:
1. Question: What is your motivation to participate in the project?
2. Question: How do you think you will use the knowledge and skills which you gain at this project in your future life?
Prihlasovanie na tento projekt bolo uzatvorené. Momentálne prebieha výber účastníkov.