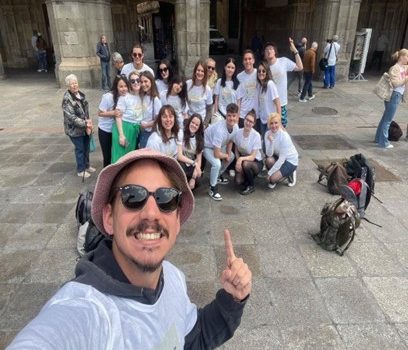 Category:
Stories of participants
I joined this project at the last moment, and I'm very glad that I did. These two weeks in Spain were filled with dance, fun, sangria, and a great program with wonderful people. Spain is a diverse country, and I'm very happy that I had the opportunity to get to know it through the Erasmus+ project.
Thanks to the project, I got to know four Spanish cities. We landed in Madrid, where I spent an additional two days after the project, getting to know its history and entertainment. The project took place in the small town of Iscar, where we enjoyed a tour of the castle and had fun at the Monaco club, where our Erasmus group always kicked off the party. The organizers also planned two full-day trips to Salamanca and Valladolid – cities that I definitely recommend visiting.
I really enjoyed the program; we were engaged in sports on a daily basis. It wasn't just football and basketball; we learned about sports I had never even heard of before. It was great playing kin-ball with a ball the size of a school desk.
During the cultural night, we proudly celebrated our country, performed the hat dance, and indulged in plenty of Horalke chocolates. Most importantly, we showed them how much fun it can be to be with Slovaks. It was a fantastic cultural night, as well as a week-long exploration of Spain.