Date/time
Date(s) - 22/08/2015 - 28/08/2016
All day
Locality
Stara Lesná, Vysoké Tatry
Project type
Selected participants
The training was focused on preparation of projects and project management, exchange and sharing of experience, advices and how to get approved the project within Youth in Action programme. The training was intended particularly for the youth leaders, or the beginners in youth work who do not have the experience with the projects so far. The priority to participate on this training was given to young people who are working in NGOs as volunteers, but they are unemployed in order to increase their competences for finding a job. Our goal was to show them, that it isnt so difficult and to encourage them to try to develop their ideas.

There were various activities within the TC:
– name games, teambuilding activities, ice breakers, energizers;
– workshops focused on project management in general – how to develop projects ideas, what is important to think about, what to plan, about the project manager;
– multimedial presentation of Erasmus+ programe, its opportunities, devision into actions, results of YiA;
– workshop about eligibility and quality criteria – simulation –  participants will play the role of evaluators. They will get several projects summary/objectives/goals/programme and their task will be to choose which will be approved – then trainer will facilitate the discussions about eligibility and quality criteria;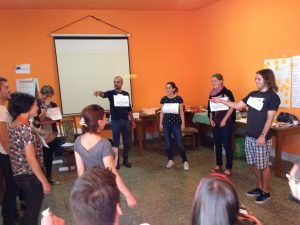 – workshop focused on application form of Erasmus+ programe where trainer explained each parts, what should be writen in each part;
– NGO fair – presentation of organizations where participants are working + sharing examples of implemented projects through Youth in Action or already Erasmus+ programe;
– workshop about partnership in international projects – participants were devided into the groups, and each of them had some problem/or complication related to partnership and their role was to think and present the worst solutions for it in order to realize how important is it and that each situation is possible to solve;
– workshop about administrative and financial aspects of project management and dissemination and visibility of the project;
– open space method in order to develop project ideas, later presentation of project ideas and getting feedback, advices, tips from trainers and participants;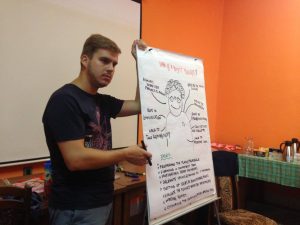 – intercultural evenings;
– slovak evening with traditional slovak dinner and fold dances;
– cultural trip to Kezmarok;
– barbaceu;
– reflection groups;
– final evaluation and giving youthpasses.
Project was supported from Erasmus+ program.