Date/time
Date(s) - 14/04/2019 - 25/04/2019
All day
Locality
Istanbul, Turkey
Project type
Selected participants
Guest User
Guest User
Guest User
Guest User
Guest User
Guest User
Guest User
Guest User
Summary what was youth exchange about:
Let's Cross the Borders and Live Together! was an youth exchange that aimed to emphasize one of the most important problematic which EU and Turkey tackles: Refugees, Asylum Seekers and Immigrants. Too many families torn apart during the Syrian crisis and too many people displaced from their home country to escape war and find asylum and a better place to live.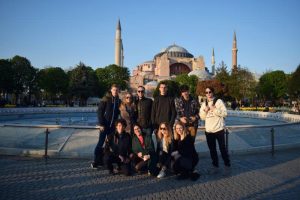 Their first choice was mostly EU and Turkey due to better living standards. However, each nation and their people have different values and culture which brings the issue and problem of integration. But the number of displaced people is vast and it is an impossible task to challenge this issue as a single country. Therefore integrated, holistic strategies and actions should be provided not only by national states and EU but also by local and regional actors such as NGOs and local administrations.
In this context, our project aimsed to contribute to the this huge challenge by creating a pilot training programme for young people and volunteers which can play a vital role for their integration and also increase the level of tolerance of the society for Refugees, Asylum Seekers and Immigrants.
Participants were from Turkey

, Greece

, Italy

, Romania
, Czech Republic

and Slovakia
.
Participation in the project
If you would like to apply for project, please answer the following questions:
1. Question: What is your motivation to participate in the project?
2. Question: How do you think you will use the knowledge and skills which you gain at this project in your future life?
Pre tento projekt sme už vybrali účastníkov.