Date/time
Date(s) - 11/08/2017 - 18/08/2017
All day
Locality
Samobor, Croatia
Project type
Selected participants
"Dear ADEL Slovakia Team, I would like to thank you for the unique opportunity to travel to Croatia and to participate in the training course Moving Youth in Samobor. As it was my first experience with Erasmus + projects, I did not really know what to expect from this course. We have had enough time to network with new people, to learn, so we could practice languages ​​other than English, and last but not least, I have to highlight the professionalism of our trainers who gave us their valuable experience, how to use sport as an educational tool for children and teenagers. This amazing experience makes it easy to train anyone who wants to expand their horizons, educates, travel and meets new people from all over Europe. ADEL Slovakia and Erasmus + connects young people from all over the world Europe and offers them a unique opportunity to experience and learn something new.Thank you" Maria
Summary what was training about:
MAIN GOAL
This project was developed with the aim to include youth workers, youth leaders and trainers from participating countries into the process of acquiring and developing new tools and methods to integrate sport and physical activities in their youth work, community work and educational activities. Basis of this project is the concept of Education through Sports (ETS)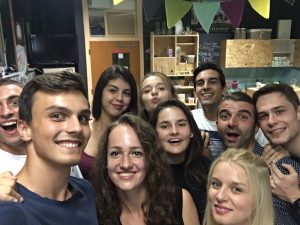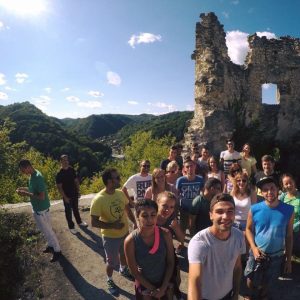 METHODS AND ACTIVITIES USED
theoretical workshops aiming to enhance knowledge about connection of physical activity and health of participants with fewer opportunities regarding access to that kind of theoretical knowledge as well as lack of access to sport facilities and sports in general.
practical workshops aiming to enhance even further their knowledge and to provide them with skills in various sports so they can use their knowledge and skills to enhance their health as well as health and lives of people in their local community.
energizers, icebreakers and other types of team building activities, intercultural evenings
PROJECT OUTCOMES
ability to use Education through Sports in youth work; ability of creating, inventing and developing new exercises that integrate the value and ideas of ETS;
ability to effectively address the needs of young people they work with through sports and physical activities;
increasing participant's awareness of their own learning process and style: the most important learning outcome as it involves motivation and being able to reflect critically in terms of attitudes, which are extremely important in achieving a successful learning process;
developing ethical competences and values in terms of attitudes such as freedom, solidarity, tolerance, equity and sense of belonging, democratic participatory attitude as well as teamwork and cooperation;
the ability to elaborate strategy; creative, innovative and critical thinking; understanding and respect of each one's cultural background, self-respect and respect for others, respect for different opinions and points
of view, acceptance of differences and diversity, overcoming stereotypes and prejudices;
ability to cope with stress and frustration, to create confidence and to feel empathy;
abilities for planning and organisation and ability to work individually as well as in a team innovation, proactive attitude, independence and determination to achieve planned aims
http://online.pubhtml5.com/qjzg/vglr/
Participants during the training were from Bulgaria
, Slovakia

, Netherlands
, Italy

, Czech Republic
, France
, Poland

, Spain

, Latvia

and Romania

. From each country 2 participants
Participation in the project
If you would like to apply for project, please answer the following questions:
1. Question: What is your motivation to participate in the project?
2. Question: How do you think you will use the knowledge and skills which you gain at this project in your future life?
Pre tento projekt sme už vybrali účastníkov.