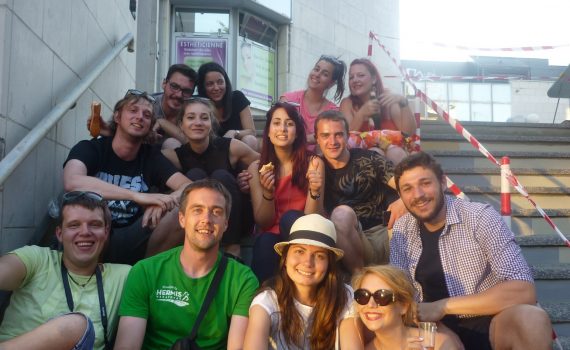 Category:
Stories of participants
Full of expectations, eager to experience a fun and adventures, gain knowledge and receive advices, the Slovak team went on a jurney to Paris on 15th June. After 4hour delayed flight expedition took the plane and reached Paris short after midnight. All enthusiasm dissapeared because of french railway-strike. Kicked off the train station, almost lost in Paris and canceled train..it seemed like a nightmare, but for strong souls from under the Tatras it was just a challange.

16th June, after 11 pm, we finally approached Saumur totally broke, but that feeling of reaching the goal gave us last remnents of adrenaline, despite lack of sleep. We arrived to the camping (according to one of our trainers "city in the middle China"), get known our trainer, coordinators and we were hibernating until the late hours. Dinner was calling our empty stomachs, so full of life we fell asleep with food and new friends.
At the first day of the project the goal was to learn about enterpreneurship and receiving valuable advices to professional life. Thanks to portugaleese trainers we made an awesome friendly team full of laught, dreams and beautiful ideas. In next days our barriers fell down and together with participants from France, Spain, Portugal, Italy, Greece, Romania and Lithuania we began to be more creative than anytime, we created the newest postmodern flows in every aspects of life and connected every cell of our grey braincrust into thinking process.
Maybe we didn´t have enought time for relax, but all days were fulfilled colourful and interesting, that they we ran like olympic sprinters on 100 metres. We were also confused about the aims of the project, but after learning how to learn and finding our personal ways to development, we realized everything. Along with friends from other countries we  supported each other with methods of coaching and we became a leaders, servants and also slaves. Everything was pouring together and now we know that our own dreams, goals are unattainable. Everything we need to reach our desires is strong will and using our best qualities. At the last day of the project everyone knew why this project was called as it was. It gave us many, and revealed to us priorities and skills which we will develop.
It wasn´t just about difficult activities during the project. Intercultural nights full of food, drinks, smiles, information were a perfect rest. During this time we were joking with Romanians about origin of "bryndza" (traditional cheese) and we were enjoying the time like an old friends.
Fun is maybe the right word, which represents everything we experienced during the freetime. Walking through the historical town, visiting the caste, Fête de la Musique and dancing until the late night, decoding French "English" and happiness at every moment. After eight days we all met at the train station and said "good bye", which was surely not last. It was an amazing project thanks to everyone who was in touch with it.
Radovan Čižmár, participant of training course