Dátum konania
31/07/2023 - 09/08/2023
Miesta konania
Selema, Lithuania
Typ projektu:
This project aimed to enhance disaster management knowledge and survival skills for 30 young people from Bulgaria, the Czech Republic, Lithuania, Romania and Slovakia. The project's theoretical aspects focused on understanding how these participating countries address natural and man-made disasters across all main stages (Preparedness, Response and Recovery), along with designing emergency plans suitable for diverse scenarios and situations.
Youth exchange
The practical approach included learning to construct strategic shelters in the forest, prepare emergency kits, ignite fires using fire steels, create water purification filter devices, maneuver canoes, perform CPR and essential life-saving techniques, provide psychological help to prevent and manage panic attacks, tie different types of knots, create masking nets and navigate successfully in the forest. The main non-formal learning methods used were brainstorming sessions, group presentations, experiential learning ("learning by doing"), simulations, role-playing and outdoor activities.
All these hands-on activities aimed to enhance participants' confidence and self-assurance in their ability to effectively manage and respond to disaster situations. For example, learning about essential supplies in the event of an evacuation and simulating an emergency scenario empowered participants to respond quickly to unforeseen situations and prepare effectively for potential disasters. Mastering the skill of starting fires using fire steels and the materials found in nature enhanced participants' resilience and confidence in tackling various survival tasks and unexpected adversities.
The canoe trip organized on the fourth day of the project strengthened participants' ability to cooperate and work effectively with others. Learning from specialists about performing CPR, life-saving and relaxation techniques equipped them with crucial skills to provide both first aid support and emotional assistance during distressing times.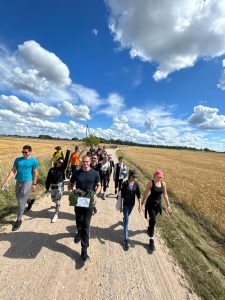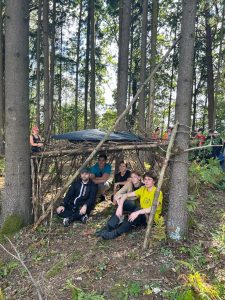 Last but not least, as empathy and solidarity are among the most valuable assets in times of crisis, participants had the opportunity to learn from two special Ukrainian guests who sought refuge in Lithuania how to create camouflage nets as a method of protecting important equipment and buildings. Beyond the practical skill acquisition, the activity also sought to foster a deeper sense of empathy, cultural exchange and international cooperation, encouraging participants to draw inspiration from real-life stories of resilience, while equipping them with tools to contribute to the safety and well-being of their own communities
Objectives of the project:
Explore the current state of emergency preparedness in the participating countries.
Learn relaxation techniques to effectively manage stress and cope with panic attacks during emergency situations.
Enhance essential first aid skills to provide immediate medical assistance in times of crisis.
Develop practical skills that can significantly increase the chances of survival (e.g. purifying water, starting fires, constructing temporary shelters, navigating through forests, packing comprehensive emergency preparedness kits, etc.)