Dátum konania
29/04/2018 - 07/05/2018
Miesta konania
Vauclin, Martinique
Typ projektu:
EVS4YOUth was a Training Course and Partnership-building Activity taking place in Vauclin (Martinique), from the 29 of April to 7 of May 2018, organised with a view to allow 24 participants from 12 countries (France, Greece, Hungary, Italy, Lithuania, Latvia, Poland, Portugal, Romenia, Bulgaria, Slovakia and Spain) to find partners for transnational co-operation and for project development on European Voluntary Service (EVS), under the Erasmus+ Porgramme and European Solidarity Corps.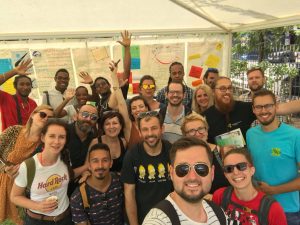 "EVS4YOUth" objectives and activities were:
– To get to know organisations interested in finding partners for future European Voluntary Service (EVS) projects and develop solidarity and links of trust among them, through team building games and several activities;
– To promote long term quality partnerships through the participation in different workshops; – To provide a better and common understanding about the idea of "good partnership on EVS", in order to guarantee successful projects in the future;
– To provide an opportunity for key actors to share their views about EVS; – To have testimonials from EVS projects and share good practices among peers;
– To provide useful tools on the entire EVS process and projects management to help the implementation of successful EVS projects among potential future partners;
– To facilitate the creation of EVS projects during and after the activity by putting participants in real practice (sharing a common view and common pillars of quality and filling the EVS application form);
– To promote active citizenship and mutual understanding among people working in the youth field;
– To involve youngsters of the local community in this EVS frame to promote it. We will work on the basis of non formal education principles, stimulating the development of personal and group competences.